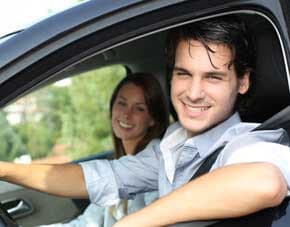 One of the reasons people decide to buy a car is that they face a long commute to work on a daily or weekly basis. If your job is far away from home, requires frequent business trips, or consists of plenty of hours behind the wheel driving to meet individual investors or clients, you need a car that can go the distance.
When you're in the market for a perfect commuter car, here are some buying and driving guidelines to consider. You need a car that will provide the comfort, safety, and reliability you need to survive the drive.
1. Look for Hands-Free Features
One of the best ways to make your commute safe is to choose a newer vehicle that offers as many hands-free options as possible. A Bluetooth connection for your smart phone, for example, will allow you to make calls by voice command, a feature that can be very useful if you need to take client and family calls during your drive.
Some newer systems are so advanced that you can also dictate replies to texts and emails. Getting this work done while you commute can help to free up your time when you get to work. Your commute can end up being a time for you to get things done instead of a part of your day where valuable time seems wasted.
2. Invest in a Good Entertainment System
Driving the same long road every day can start to feel monotonous. Monotony can be dangerous because if you are drowsy or bored, your mind can wander. You might even start to feel drowsy at the wheel. Consider buying a car that has plenty of entertainment options, including:
Satellite radio that is commercial free. Some cars come with a satellite radio connection, and you can often negotiate the monthly rates down. The upside to satellite radio is that you never have to worry about being "out of range" on most major roads. Satellite radio has more reliability than standard radio.
Excellent speakers and stereo features for excellent sound quality. You might find it annoying to listen to instrumental music on a sound system that sounds "tinny" or has static feedback. More modern cars have improved sound, and you can modify the sound with precision to change bass, saturation, or even the location the sound seems to come from.
Access to podcasts and audiobook services. You might have podcasts or audiobooks on your phone, and if you do you can listen through a Bluetooth connection, but you can also use AV cords or USB drives to access saved audio content if you want to save your phone battery.
Other features that can be really useful for your commute include multiple options for charging your devices and a built-in data service. If you need to have Wi-Fi wherever you go, a car-based connection might be cheaper than using your phone as a mobile hotspot.
3. Add In Features That Will Help You Navigate
If your commute takes you over rural country roads, you might not have to worry about traffic or alternate routes. However, sometimes the length of a commute can be heavily affected by traffic conditions. A car with a built-in GPS can keep you safer than the GPS on your phone simply because fiddling with your phone in traffic can be a hazard.
Your built-in GPS can suggest alternate routes and predict how an accident or traffic will affect your arrival time.
4. Consider Room for Others
You can help cut down the cost of a commute by carpooling with other employees. If you think that you could make the commute easier by taking some coworkers with you, you'll want to forgo a compact car and opt for a larger sedan. Your car-mates will appreciate increased legroom and the features of your car that will allow your colleagues to make the most of the time spent driving.
5. Choose a Car With Good Fuel Economy
As engine technology improves, fuel economy gets better and better. Still, your expenses from a commute can really add up, especially if you drive a larger vehicle, need to trek through steep inclines, or spend time idling in city traffic. You might consider:
Electric cars. Depending on the length of your commute and on whether you have a place to charge the car when it's parked for the day, an electric car can help with the cost of fuel. Some areas of the country are friendlier to electric vehicles than others; charging ports abound in urban areas. In more rural areas, however, electric cars might not be as practical.
Hybrid cars. These rely on both fuel and electricity, and can give you access to the sweet spot for getting good mileage without relying completely on electric power.
Newer flex-fuel cars. Flex-fuel cars are designed to burn gasoline that is mixed with a high percentage of alternative fuel. These fuels are often less expensive and safer in terms of emissions. However, the efficiency of flex-fuel engines can vary greatly, so make sure you research the cost difference when you take fuel efficiency into account.
Reducing fuel costs can take some of the sting out of your commute, so make sure to look into all your options.
For more information, contact us at Young Automotive Group. We'll be happy to help you find the car that's appropriate for you.