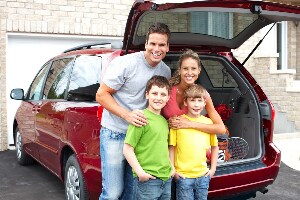 As you begin your search for a new car, you may feel overwhelmed by your options. Finding a vehicle requires you to make a range of decisions, from vehicle type and make to the color. But perhaps your most important choice is who you purchase your car from.
Where you purchase your car may determine your warranty, vehicle options, and maintenance availability during your first years of ownership. While private sellers and national dealerships can offer certain advantages, in this blog we focus on five of the benefits of opting to shop at a reputable local dealership.
1. Access the Dealership More Easily
Car shopping can become complicated if you don't have an easy way to visit a dealership. If you don't have a reliable car available because you're shopping for your first or because your vehicle was totaled in an accident, start your search at a dealership that's closer to home.
Not only are local dealerships easier to get to, but some local dealerships even offer shuttle services to help you get home if you don't have an easy way to travel.
Even if you have readily available transportation, working with a local dealership is more convenient since you don't have to travel as far to follow up or put as many miles on your new vehicle when you drive off the lot.
2. Build Relationships With the Staff
Professional and personal relationships can have a large effect on your overall car-buying experience. At a local dealership, you may already know staff members or have friends in common with staff members. This rapport can help you feel more comfortable and may even improve the deals available to you.
Additionally, building a professional relationship with your sales representative and the dealership's service department ensures that you feel more confident in your purchase. The sales representative is in charge of walking you through your contract and negotiating the final price. The representative may even help you get financing for the vehicle, so it's important that you feel comfortable working with him or her.
In the future, knowing the service staff can also expedite the process and make dropping your car off for a tune-up seem like less of a chore.
3. Ensure You Get the Most from Your Service Agreement
Many dealerships offer service agreements for their vehicles. These service agreements may give you access to routine maintenance, like oil changes, and minor repairs on the dealership's property for a reduced charge or even for free.
It may be harder to get your car in for regular checkups if you live farther away from the dealership. Similarly, if you need a small repair and don't live in the same area as your dealership, you may need to settle for paying a local mechanic to do a job your dealership may have handled at no charge.
A high-quality service agreement can save you money in the first few years of car ownership as long as you can take advantage of it easily.
4. Support Your Local Economy
Many local car dealerships are small businesses that depend on residents in your area to stay in business over time. When you shop with a local dealership, you can feel good about supporting an important local business.
When you put your dollars back into your local economy, you also help fund community events. Many car dealerships sponsor sports teams and athletic parks and donate to local charities. Purchases at a local dealership can help keep neighborhood kids in Little League programs and vital community services funded.
If you want to ensure that your vehicle purchase has the best possible community effect, talk to your chosen dealership about their community connections.
5. Test Drive Where You Actually Drive
Perhaps one of the biggest benefits of buying your car locally is that you get to test drive prospective vehicles in your actual area. If you want to see how a vehicle handles a particular hill or curve, you may have the option of driving that stretch of road. Just ask the representative who rides with you on the test drive to see if you can drive a portion of your commute or take a spin around your neighborhood.
When you travel to a dealership that isn't close to your home, you can test drive a vehicle, but the test only provides an approximation of how the vehicle would handle your usual driving habits. Test drives in areas you aren't familiar with may even provide inaccurate information because you don't know which road and traffic conditions are normal and which may be temporary.
As you decide where to look for your next vehicle, consider an established local dealership to reap the benefits listed above.
Ready to find your new car in Utah or Idaho with the help of your local Young Automotive Group dealership? Find the location nearest you.